First off, we are going to start keeping a Development Blog / Development News section on this website. It will basically chronicle minor and major development news that may be happening based on decisions that are made by the GhostBSD Team and on behalf of our users, so feel free to check back here often for updated news.
This first big news is that we are dropping support for all other desktops besides Mate. We are doing this because we want to put our focus and energy in to development of better tools like Network Manager, Update Manager, Package Manager, and to touch up the Installer. This was not an easy decision, but comes after input of Users and Team Members. With a team as small as ours, keeping up development for all the other desktops is a daunting task and we may rethink this decision in the future, but for the time being, we are sticking with Mate. We've also had some discussion focused on developing better integration to the FreeBSD ecosystem.
The latest accomplishment is the new installer and partition editor, which has been inspired and drawn from the FreeBSD installer and partition editor. The new partition editor will now "virtually" edit partitions, which means before the final commit, it's possible to revert the changes. The partition editor will also support auto-partitioning of the entire disk or the free space of a disk.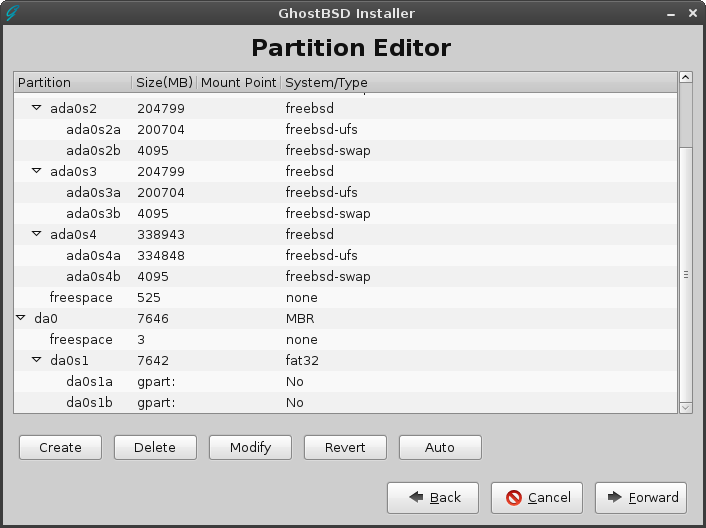 Our developers have also decided to start committing code on PC-BSD pc-sysinstall to facilitate the development of the GhostBSD installer and to be up to date with the latest version of pc-sysinstall without having problems with adding our code every time we update to the latest version.
We have also moved our development version control system from SVN to Git. All the development is now going to be done on GitHub. Git and GitHub facilitate the development flow and control of the code. Anyone can fork it to develop a new idea and commit it without compromising the current development. You can check out (or checkout) the repositories at https://github.com/GhostBSD.
That should be about it for now. We will be posting more news as it comes in, so stay tuned!