We appreciated our partners. Our partners provide the support and services we need to ensure our success. They make our job easier and allow us to focus on the development of GhostBSD.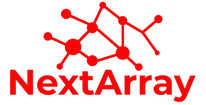 Our US Mirror is provided by NextArray LLC.
NextArray LLC. Is a hosting service provider dealing with Dedicated Servers, Colocation, Virtual Servers, Data Backup, colo by 'U' space and much more. Their focus has been low-cost services so that everyone can enjoy the benefits of enterprise hardware no matter the size of your company. They want to provide as much bandwidth as possible. Therefore all of their dedicated servers come with a 10Gbps uplink and bandwidth with each server. Also, their pricing for their full cabinets are the most competitive in the United States. Please visit them at https://nextarray.com for more information.
Interested in building a partnership with GhostBSD?
We are always interested in new partnerships. A partnership that provides a service or support to GhostBSD or the community is more than welcome. A partner can also be a vendor that sells or distributes products products associated with GhostBSD around the world.
Contact Us